This renowned boat construction book was written by epoxy pioneer Meade Gougeon, a founder of Gougeon Brothers, Inc.
Decades of experience building with wood and epoxy are compiled in this classic on wood/epoxy boat building, popularly known as cold moulding. Extensive chapters describe lofting, safety, tools, and construction methods with the aid of hundreds of detailed illustrations and photographs. This 5th edition includes new and updated material and a revised layout for easier navigation. Used as a textbook in many boat-building schools.
Hardcover, 406 pages
You can download a free PDF of the book in its entirety or order it from your local stockist.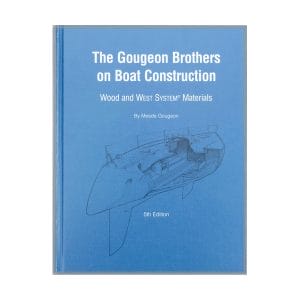 DOWNLOAD NOW
Boat Construction Book – details
The Gougeon Brothers on Boat Construction: Wood and WEST SYSTEM® Epoxy were first published in 1979. As originally conceived, this boat construction book was an introduction to the techniques of "modern" wooden boat building popular from 1960-1980. Its focus, as its title suggests, was how to mate wood with epoxy to form a composite that has physical characteristics superior to either component by itself and is stabilised from the effects of moisture. This development of wood/epoxy composites revolutionised the use of wood as an engineering material.
The original boat construction book was well-received, and we updated it in 1982 and 1985 to reflect changes in materials and techniques. It has continued to sell well and has introduced thousands to wood/epoxy construction techniques. It has also been used by marine trade schools and apprentice programs as part of their curriculum. In short, The Gougeon Brothers on Boat Construction book has become a respected member of the canon of boat building books.
Much has changed since 1985 as modern wooden boat building has evolved. Several of the methods we discussed, such as variations on strip planking and hard-chine construction, have become more popular. Others, such as the mould and stringer-frame methods, are now used infrequently except for moulds and prototypes. In 2005, aerospace composites were in common use. Hybrids using wood and advanced composites, including aramid, S-glass, and carbon fibre, are being explored. So too, are the uses of non-traditional wood species. Such uses are possible because of the ability of epoxy resins to protect and bond wood and overcome traditional durability concerns. In short, the choices for the wooden boat builder and customers in the early 21st century have grown immensely.
Nonetheless, the techniques described in The Gougeon Brothers on Boat Construction have stood the test of time. In a simple and straightforward narrative, we describe how anyone with a few tools, some wood, and some WEST SYSTEM® epoxy can turn out a good, safe boat. In addition, we give experienced builders a base of information from which to produce increasingly sophisticated hulls and other structures. For the student, builder, or customer researching options, The Gougeon Brothers on Boat Construction provides a solid understanding of available choices and their nuances.
Changes to the 5th Edition To make The Gougeon Brothers on Boat Construction a richer resource for the 21st-century reader, we have chosen to revise, reorganise, and update the book, but not to rewrite it. To edit out less popular construction methods like stressed skin or stringer-frame construction or replace fundamental building disciplines such as lofting with modern counterparts like computer-assisted design (CAD) would rob the reader of choices. While, after 25 years, the book includes some things that we would no longer do, this information provides a historical perspective on how "modern" wood/epoxy construction evolved and potential techniques that could still be of interest to current builders.
For clarity, we have reorganised the 5th edition of our boat construction book into six sections:
Fundamentals of Wood/Epoxy Composite Construction
Getting Started
Core Boatbuilding Techniques
First Production Steps
Hull Construction Methods
Later Production Steps
Preface
The brief history of Gougeon Brothers and WEST SYSTEM epoxy (Chapter 1) and overview of modern wood/epoxy composite construction (Chapter 2) are new. We have also written new prefaces for each chapter, alerting readers to changes or new techniques. In addition, we have included limited new material within the chapters to update information and reflect significant shifts in practice.
Hardware bonding receives greater emphasis in the 5th edition. We have also updated safety information and included current product information. Revised appendices reflect ongoing testing and developments. New photographs show the wide range of successful boats built during the last 35 years using the techniques discussed in the book.
To meet the needs of an international audience, we have also provided metric equivalents for the English measurements used in the book. Where there are standard metric sizes—for sheet plywood dimensions, for example—we give these. For measurements that do have a direct metric equivalent, we use approximations based on common metric standards or round-off for clarity.
Thus, this updated 5th edition of The Gougeon Brothers on Boat Construction not only continues to make fundamental information on "modern" wood/epoxy boatbuilding readily available to readers. Through its revisions, it also provides a contemporary context for understanding these materials and techniques.
While we are planning new publications to cover changes, choices, and considerations in wooden boat building for the 21st century, we continue to print The Gougeon Brothers on Boat Construction: Wood and WEST SYSTEM Epoxy as a snapshot in time—modern wooden boat building as it emerges from traditional methods to embrace new materials and new technologies.
The Gougeon Brothers on Boat Construction: Wood and WEST SYSTEM Epoxy started as a labour of love in 1976. Meade Gougeon, with help from brothers Joel and Jan, worked on the original for over two years, finally bringing it to publication in 1979. Rob Monroe was part of the original team, contributing drawings and text, particularly material on lofting. Kay Harley served as editor, and the writing would not have been possible without her patient encouragement and guidance. Barbara Livingston, Lily Jarmin, and Loren Mohn assisted with the publication. This 5th edition of the book builds upon its predecessors.
As explained in the preface, we decided to substantially revise, reorganise, and update The Gougeon Brothers on Boat Construction, but not to rewrite it. From the technical side, this edition is the distillation of twenty years of feedback from professional and amateur boatbuilders whose comments and questions to the Gougeon technical staff have moulded every element of the book. Brian Knight and Tom Pawlak have served as the technical editors for the 5th edition, working for over a year reviewing, updating, and editing material. Their attention to detail and sense of quality bears on every page. J.R. Watson, Jim Derck, Glenn House, Patrick Ropp, Bill Bertelsen, and Rob Monroe have also provided content and additional review.
Kay Harley returned as editor and prime mover, helping bring the many years of discussion about a new book to reality. Her respect for the technical expertise and individual writing processes of multiple authors combined with her critical eye and editing experience to shape the project. Mike Barker's work as a design editor and production coordinator has also been crucial to this edition. Not only has Mike made new drawings, revised others, and created an updated portfolio of photographs reflecting thirty-five years of wood/epoxy boat construction, but he has also managed all of the details of multiple drafts and the shift to digital production with this edition of the boat construction book.
We also thank Marjie Johnson at Golden Graphics for the layout and Todd Fisher at McKay Press for printing.
Finally, we thank Meade Gougeon for his encouragement throughout, all of the Employee Owners of Gougeon Brothers, Inc., and family members who helped this project along.