How WEST SYSTEM Products Got Their Start
Our early years of trial and error in boat construction planted the seeds for the eventual development of WEST SYSTEM Epoxy products and the knowledge base for using them properly.
It began after World War II when boats were hard to come by. My brothers and I were growing up on Lake Huron's Saginaw Bay and took to building our own boats. Our first attempts were crude and leaky, but we progressed to better-fitting parts held together with bronze Anchorfast™ nails and Weldwood™ glue. Later, some of the newer resorcinol adhesives offered better gap-filling properties that improved overall bonding capability, but we still had to rely on fasteners to hold together our structural components.
A new epoxy technology came to our attention in the late Fifties to early Sixties. Detroit's automotive patternmakers were switching from resorcinol glues to epoxy adhesives to laminate pattern stock because the epoxy required less clamping pressure. One pattern maker, Victor Carpenter, became enamoured with this new bonding potential and used it to build a small sailboat. His project turned out so well that he gave up patternmaking and became the first professional boat builder to use epoxy, along with traditional fasteners, to assemble wooden boats. In 1959 at the age of 14, my youngest brother, Jan, began working for Vic after school and on weekends. He helped Vic build several boats, including an S&S 37 keelboat. The things Jan learned from Vic at an early age provided a significant boost to our later work in boat construction and epoxy development.

After graduating from college in 1960, I moved to Kansas City and began making a living as an industrial salesman. I lined up a local source of epoxy, then designed and built a Sunfish-type 14′ sailboat. My goal was to eliminate the use of fasteners. The results were disappointing; several of the bonded joints failed. The problem was an inappropriate epoxy product compounded by a lack of experience. But even then, the revolutionary potential of epoxy technology was clear.
Over the next several years, Jan and I would work hard to learn as much as possible about epoxy-bonded joinery. Our goal was to eliminate fasteners in wooden boat construction. Wooden boatbuilding was on its way out in the early Sixties, replaced by newer fibreglass-reinforced resin technology.
Over thousands of years, wooden boat building had evolved to become totally reliant on fasteners to hold together the parts and pieces that form a boat. The problem with this traditional method is that even the best-designed joints can transfer only 25% of the wood's ultimate strength. To accommodate joint inefficiency, wooden boats of the past were heavier than necessary. Wood's real potential became evident during World War II when hot-moulded laminate made with veneer and resorcinol glues under high pressures proved stronger than metal.
A good example of this is the all-wood deHavilland Mosquito bomber—still one of the lightest airplanes ever built for its horsepower rating. It has long been known that wood can be a superior engineering material if the joint problem can be overcome.
The only problem with building the Mosquito bomber was the need to bond it all together with a minimum clamping pressure of 125 psi. This was done at a huge cost both for tooling and labour, which could be afforded only during wartime when metals for building planes were in short supply.
When it became apparent epoxy had the potential to eliminate this burdensome requirement of massive clamping pressure, it seemed possible to completely bond large wooden structures efficiently and at a low cost. The prospect challenged our imaginations and led us down a path of trial and error over the next ten years, culminating in the building of the trimaran Adagio.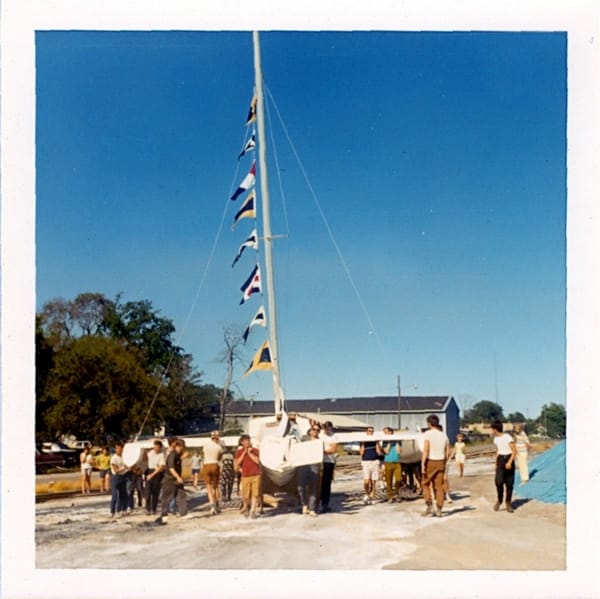 Adagio
Launched in 1970, Adagio was the first large, all epoxy bonded and sealed wooden boat built without the use of fasteners. Jan and I built her in just six months. Five decades later, Adagio remains a serious contender in the Great Lakes Mackinac regattas.
More importantly, she has withstood the test of time. Adagio is proof that fully bonded, wooden monocoque structures can be built within cost and time constraints and last for generations
The trial-and-error projects leading up to Adagio included a series of five racing trimarans and numerous DN iceboats. Our goal for each of these projects was to build the lightest structures possible. We wanted to produce race-winning boats. Our emerging wood/epoxy technology quickly developed an advantage over the best fibreglass technology of that time. By continuously pressing the edge of material performance, we learned from both success and failure, contributing to our knowledge base.
DN Iceboats
The DN iceboat, with its highly loaded components continually operating at strain rates just short of failure, proved to be an excellent testbed and contributed greatly to our history. Many broken masts and runner planks put us on a fast-track learning path to understand what was possible and what was practical in wood/epoxy composite construction.
In 1969, with this crucial knowledge in hand, we began building DNs as our first product and would sell more than 200 iceboats over the next five years.
The epoxy system we were using worked well as an adhesive but was difficult to apply as a coating. Where we really got lucky in our quest for epoxy technology was to be located 17 miles east of Dow Chemical Company's world headquarters. Dow and Shell chemical companies were the major base-epoxy suppliers in the US, having imported the technology from Germany in the mid-1950s. The material was used mainly to replace the tin in cans and act as a protective undercoat for metal surfaces. It created a tightly cross-linked coating resistant to water and moisture vapor.
Herbert Dow, the grandson of the Dow Chemical Company's founder, was an avid sailor who we introduced to iceboating. After seeing what we were up to, Herb made it possible for us to work with several chemists in Dow's epoxy lab to help us develop epoxy resin and hardener products we could use as both an adhesive and a coating.
We were now seriously into both bonding and sealing the wood with epoxy. Our goal was to solve one of wood's most difficult problems: its tendency to absorb moisture and swell. It was well-known in the industry that epoxy-based technology had the potential to create a formidable moisture barrier. We developed the formulations that became the basis of the WEST SYSTEM group of products we introduced in 1971.
In that year, my brother Joel returned from Vietnam, having flown 131 combat missions. At the time, the word was traveling fast as to what we were doing in our shop. Other boatbuilders were coming around asking questions and wanting to buy some of the epoxy resin and hardeners we were formulating for our own use. We were flattered, but with the frequent interruptions, it was becoming increasingly difficult to get our boats built. Joel had saved some money during his four years in the airforce and arrived at exactly the right time to invest in our fledgling business and help start a new business venture selling our epoxy. Another family member, my brother-in-law Grant Urband, who had just moved his family back to Bay City from California, also joined our new enterprise.
We worked hard those first months, setting up production facilities and developing packaging and labels. But looking back, this was actually the easy part. Far more difficult was adequately educating our new customers on the proper metering, mixing, and applying of the various components of the new WEST SYSTEM product line.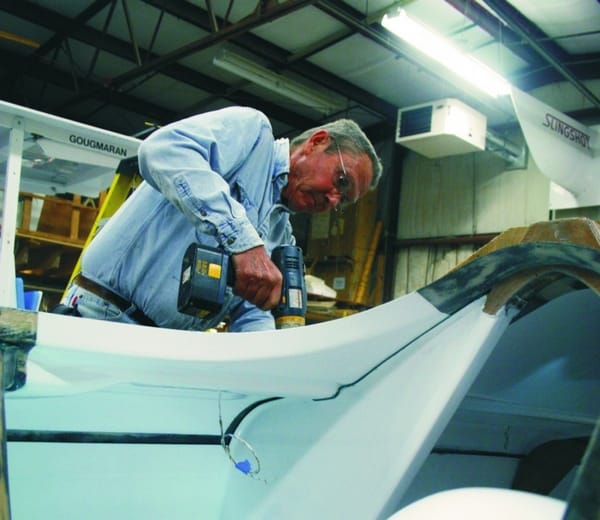 Having worked with epoxy over the previous 10 years, we'd mistakenly assumed it would be as easy for the average customer to understand as it was for us. Instead, we found ourselves spending a good portion of our time on the phone explaining how to use the products, or providing tours of our shop to visitors who wanted to see with their own eyes this revolutionary approach to using wood as an engineering material. To keep our boat-building obligations on track, we hired J.R. Watson, Jim Derck, and Craig Blackwell. Later Jim Gardiner and Robert Monroe came aboard. J.R. and Jim have since retired and Robert retired as our president and CEO in 2009, and Alan Gurski stepped into that role very effectively.
Original

WEST SYSTEM Technical Manual

In 1972, we introduced the first WEST SYSTEM Technical Manual (now known as the WEST SYSTEM User Manual & Product Guide, and available in 18 languages) to help our customers understand our products, which were like none other on the market. We could not have known then what an important part of our history this helpful booklet would become. We expanded the manual over the next several years, focusing on answers to questions our customers commonly asked. We later published other, more project-specific manuals, including Wooden Boat Restoration & Repair and Fibreglass Boat Repair and Maintenance. We also wrote The Gougeon Brothers on Boat Construction, a definitive work on cold-moulded construction with wood and WEST SYSTEM materials, now in its fifth edition.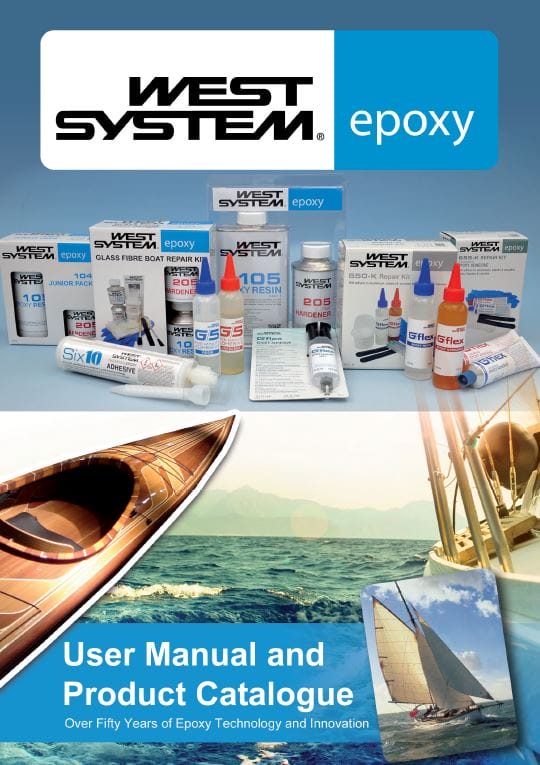 The key to our customers' success with these products was a dedicated technical staff offering one-on-one support by phone, mail, and in person, combined with our growing library of informative publications. Satisfied customers made the WEST SYSTEM part of our business grow steadily over the years. Our technical support model is similar today but with the added modern conveniences of email, the internet, and of course our new website featuring instructional videos and PDFs of all of our manuals.
The growing demands of our epoxy business made it difficult to continue our one-off and production boat-building operations. We discontinued building boats in 1993, but the boat shop we began in long ago is still in operation. Jan and I have come full circle. I like to think we "successed" our way back to the boat shop, where we build our own boats for the pleasure of it and are still discovering new things about processes and materials. Jan is finishing up a 40′ trailer-able, self-righting catamaran he hopes to launch this summer. I have been playing with small boats, mostly sailing canoes. And of course, we are both still into iceboats, our first love.
We supposedly are retired, but I think we are still doing research and development, just as we did in the years leading up to the introduction of WEST SYSTEM products.—From How WEST SYSTEM Products Got Their Start by Meade Gougeon, Epoxyworks 28.